Winner of the 2018 Grand Prix Snacking d'Or, the Flavour'Eaze range of infused oils is an all-natural herb solution, for a unique taste that locks in all of the herbal richness from the fresh plant.
Backed by 130 years of unique know-how in culinary herbs, Darégal has only selected raw materials with the highest essential oil contents to naturally bring out the TRUE flavour of the herbs.
Unlike flavoured oils, infused oils are the result of a gentle natural process, based on spontaneous osmosis between the fat in the sunflower oil and the essential oil in the herb.
This Clean Label solution keeps all of the herbal richness of these plants and fresh herbs, combined with simple and natural ingredients – just sunflower oil and herbs – which is what consumers are asking for.
The Flavour'Eaze range is 100% natural, with no colourings, additives, preservatives or GMO.
Flavour'Eaze: a diverse range to enhance your recipes
Used hot or cold, just as a traditional oil, Flavour'Eaze firstly delivers an amazing aroma and secondly reveals the full taste intensity of your cooking. These infused oils add the Top Note to your cooking for an amazingly fresh result.
In cold dishes, a few drops of Flavour'Eaze will lift salads, wraps, vinaigrettes, sandwiches, etc.
In hot dishes, a drizzle of the infused oil will enhance pizzas, BBQs, pastas, sauces, etc.
Unlike flavoured oils, infused oils increasingly appeal to producers and Chefs who want to add a hint of real freshness into their cooking.

Range:
Six Flavour'Eaze infused oils are currently available (Andalusian Garlic, Thyme, Coriander, Chipotle Chilli, Basil and Lemongrass) with further varieties in development.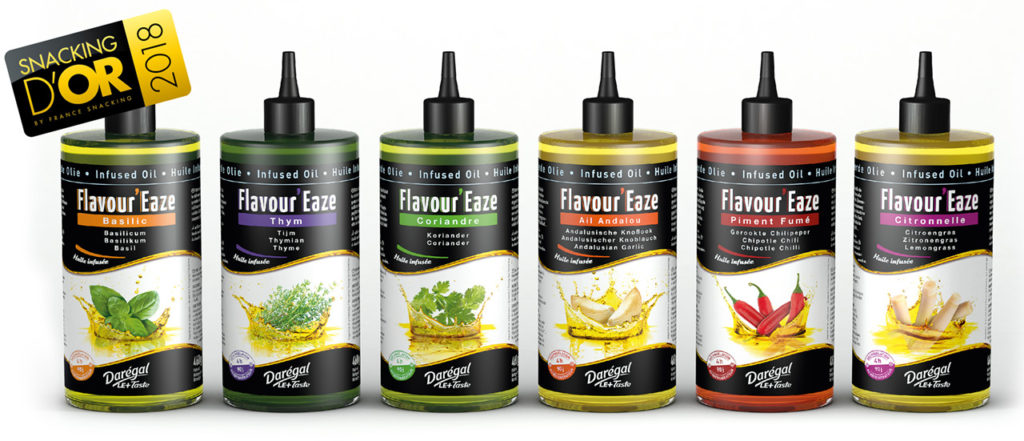 Flavour'Eaze oils come in a 460g bottle fitted with a handy measuring cap.
Keeps for two years in the freezer and then for 90 days in the fridge.
Try them today!
Our culinary experts are always happy to help so don't hesitate to get in touch.