Entertaining and spending time with family, friends and work colleagues are rising trends in the snack food world. Serving boards or slates of snacks to share as tapas or meal platters is now so fashionable that snack food professionals are increasingly turning to this easy-to-prepare but varied and high quality offering.
Taking inspiration from traditional French bistro style cuisine, Darégal is launching its New Collection of sauces called "Les Franchouillardes" for you to enjoy with your friends. These sauces introduce a variety of tastes and colours to help you easily put together a food and drinks reception worthy of a trendy finger food or after work get-together.
Darégal's culinary experts have put a fresh twist on traditional French bistro recipes by using only the best French-grown ingredients. They have built on the taste intensity of the herbs which they chose for their iconic flavours.
There are now five "Les Franchouillardes" sauces available:
La Basque – blending traditional Espelette chilli pepper with the warmth of thyme, all lifted by a hint of mustard. This slightly spicy preparation is the ideal way to enhance recipes based on Jambon de Bayonne ham and Spanish omelette.
La Rustique – marrying the delicately spicy Allium aroma of chives with the sweet sharpness of balsamic vinegar. This generous sauce really lifts recipes based on Comté cheese and thinly sliced cold meats.
La Forestière – mixing camphor scented thyme with the woody flavours of ceps, all sweetened with a dash of Madeira. The characteristics of this sauce perfectly enhance recipes based on mushrooms and duck breast fillet.
La Béarnaise – marrying the fresh aniseed bouquet of tarragon with the delicate rounded flavours of shallot. This iconic sauce will perfectly enhance recipes based on smoked Béarn trout and bresaola.
La Méridionale – combining the fresh bergamot notes of basil with the fruitiness of green olives, all lifted with a hint of garlic. This summer sauce will perfectly enhance recipes based on grilled vegetables and Roussillon apricots.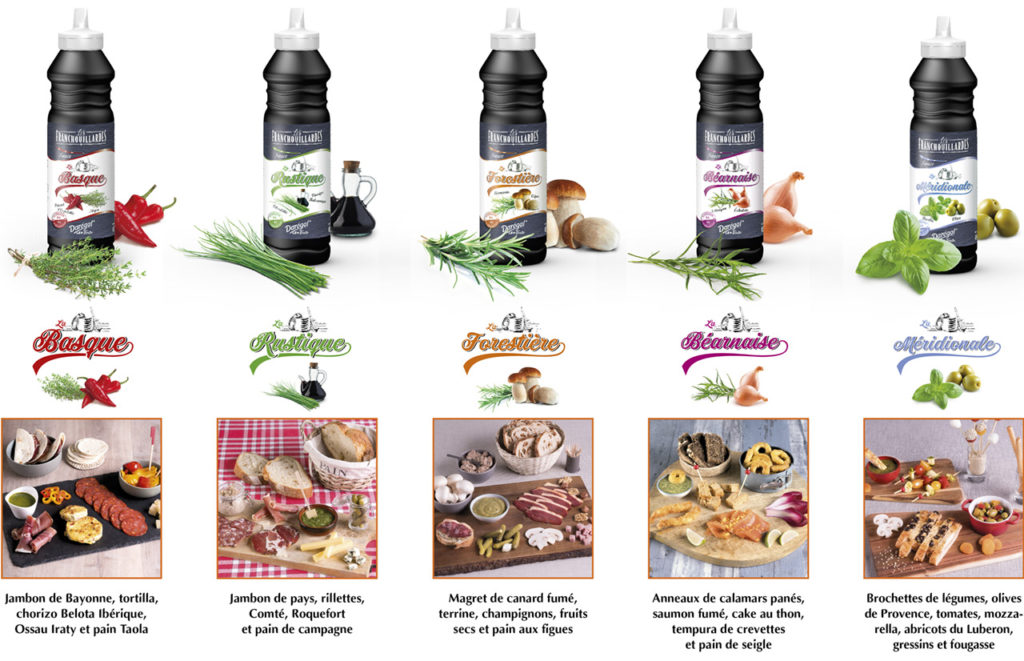 Discover our gourmet bistro recipe ideas that use Darégal's "Les Franchouillardes" sauces:

Ready-to-use, "Les Franchouillardes" sauces are a break away from the classic "Ketchup, mayonnaise, mustard" and will introduce true and authentic flavours to your fast-food platters.
Try them today!
Our culinary advisors are available to discuss the Vegan Ice Cube range with you in more detail.  Contact us for more information.