With 130 years of unique savoir-faire passed down from generation to generation, Darégal is today the world leader in the cultivation and integrated processing of culinary herbs.
Our culinary herbs are carefully selected, grown in the fields and harvested at optimum maturity.
100% natural infused oils without aromas
The Darégal culinary experts have selected only the richest raw materials in essential oils naturally bringing out the TRUE flavours of the culinary herbs in our infused oils.
A specific slow and gentle technology, based on the savoir-faire of oil & culinary herb combinations, restores the exceptional and delicate fragrances of the culinary herbs.
The raw materials and technology used allow Clean Label certification for the finished product with an ingredient list in its simplest form: "sunflower oil, culinary herbs".
Diversity to sublimate your recipes
The range of Darégal infused oils has more than fifty references, from the most traditional (Basil, Mint, Parsley, …) to the most exotic (Curry, Chipotle, Lemongrass, Coriander, Ginger, Thai Basil, …)
Darégal also offers blends with complex and balanced aromatic notes, such as Lemon zest & Dill, Provençal herbs, Orange zest and Basil, …
Each variety is infused in sunflower oil, chosen for its neutral aromatic profile, but these can be replaced upon request for any other variety (olive oil, rapeseed oil, …).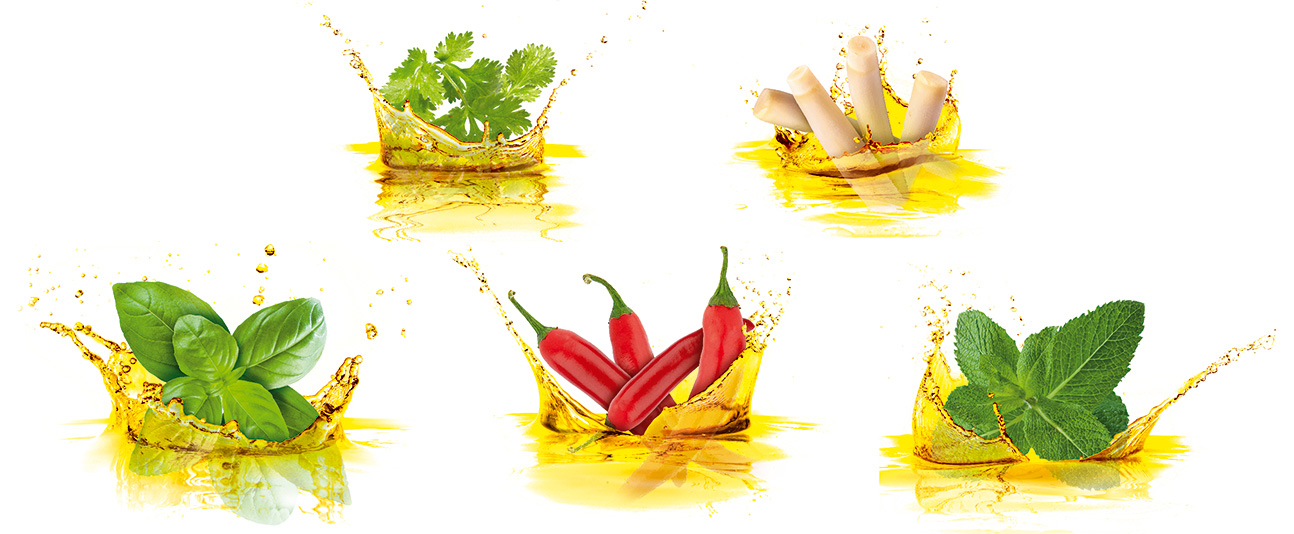 The Top Note in your recipes
Infused oils, unlike flavoured oils, are attracting more and more manufacturers and Chefs who want to bring a real note of freshness to their preparations.
Hot or cold, the infused oils first provide an olfactory surprise, then release all their flavours within the recipe. These infused oils are the Top Note in your preparations and the freshness guarantee looked for by consumers.
Used cold, a few drops of infused oil will liven up salads, vinaigrettes, tartars, carpaccios, … Used hot, a trickle of infused oil will sublimate fish, meats, vegetables, pizzas, sauces,…
Infused oils are used more and more frequently along with frozen culinary herbs in sauces, ready meals and salads to reinforce the "Freshness Sensation".