Hot on the heels of the Mint Collection and the Basil Collection, new from Darégal in 2017: Chilli peppers! This collection is really going to add some heat!
The best land for growing: Andalusia
Originating in South America, Christopher Columbus imported the chilli to Europe, however, the first growers were Spanish. Up until the 17th century, Spain and Portugal exported this "red gold" to Asia, India and Africa where it was then also grown. This explains why there is chilli in most cuisines around the world.
Darégal has been present in Andalusia since 2008 because its soil is great for the cultivation of several varieties of aromatic herbs and also because it allows us to guarantee complete traceability. Today, the company is expanding its range based on Spain's proven agricultural know-how in chilli pepper cultivation. This region's dry climate ensures that the chillies grow at a slow pace which guarantees a particularly intense flavour classified according to the Scoville scale  (a measure of the heat of each chilli based on its capsaicin content).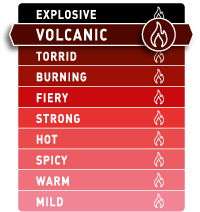 Chilli Collection: 3 years of research into 37 varieties
90% of chilli varieties belong to the Capsicum Annuum species, but the Latin name alone does not distinguish a sweet pepper from a Cayenne chilli pepper for example. This lead Darégal to take extra care to only select authentic varieties based on the shape of the plant and its fruit.
On their continual quest for authenticity, our Herb Sommeliers exclusively selected chillies sourced from Mexico, the birthplace of the varieties that are grown around the world today.
During three years of research into different types of chilli, our Herb Sommeliers tested 37 varieties. They then eliminated any varieties that could not be stably produced as a crop, ones whose shape did not fit the chosen criteria and any that did not have the characteristic flavour. This left just five which together offer a broad diversity of colour, shape and heat intensity.
 Those five are the: Poblano, Jalapeño, Serrano, Cayenne and Habanero chillies, together forming our Chilli Collection that ranges from the mildest to the hottest on the Scoville scale.

The Chilli Collection by Darégal
• Poblano Chilli – this chilli pepper is one of the most characteristic of Mexican cuisine. The first impression on the palate is dominated by flavours of green pepper, notes of freshly cut herbs and cucumber peel. The final notes are slightly sweet with earthy woodland flavours
• Jalapeño Chilli – enjoyed whilst red or green, the Jalapeño is undoubtedly the world's most well-known chilli variety. When smoked, it becomes the famous Chipotle. Its aromatic profile is dominated by notes of well-ripened red pepper and roasted or faintly smoked peanuts. Notes of ripe banana round off this profile.
• Serrano Chilli – less well known than the Jalapeño, this chilli pepper is Mexico's best seller. Usually green in colour, Mexicans love this chilli fresh to liven up their cold dishes and salsas.
Taste notes of green pepper and peanut stand out most at first. Expert tasters will also discern subtle smoky notes and aromas of green apple and pear.
• Cayenne Chilli Pepper – there is some confusion between powdered Cayenne pepper and the Cayenne chilli pepper. The former is a blend of spices that may contain Cayenne chillies. The latter is a very hot variety of chilli that is especially popular in Creole and Cajun cuisine. The aromatic base of the Cayenne chilli evokes red pepper, and the presence of sharp and tangy, even smoky notes add to its complexity. This type of chilli also has characteristic notes of stewed rhubarb.
• Habanero Chilli – white, yellow, orange, red or brown, the Habanero chilli belongs to the small group of "explosive" chillies. It differs from other chilli peppers in that: on the whole it is sweet, with notes of rose and citrus, as well as aromas of banana candy and candied fruit. Subtle notes of ripe tomato round everything off and then the heat takes over.
Available in different applications, discover all the varieties in the Chilli Collection by Darégal as a sauce, a coulis, "Pépites de Sauce" nuggets, infused oil, etc…

Each chilli in our collection is the fruit of a lengthy research effort, outdoor cultivation, and organoleptic testing prior to final production. This process is built upon 130 years of know-how.
Our sales representatives are available to discuss the Chilli Collection by Darégal with you in more detail. Feel free to ask them for your sample pack!