Our frozen 'Pépites de Sauce' are innovative, solid cubes of sauce which can be used by sprinkling on pizzas, quiches as well as gratins and other oven-baked dishes.
This new solution was specifically developed to ensure compatibility with industrial processes allowing for an automatised topping distribution.
Darégal's Culinary Experts worked around the essence of culinary herbs to come up with original sauce recipes which have been elaborated with consumer trends in mind such as natural ingredients and world cuisine.
Visually appetising with intense natural flavour, the cubes release a delicious scent during preparation when the meal is placed in the oven.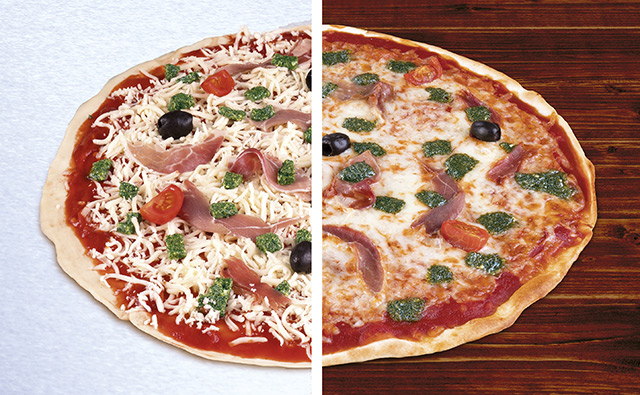 • 4 best-selling recipes are now available :
– Pesto: combining the bergamot notes of basil with the roundness of garlic, the Pesto sauce is completed with delicious Italian cheese.
– Chipotlé: this sauce brings together the smoky notes of Chipotle chili with the freshness of ginger and coriander.
– Thaï: the blend of lemongrass and ginger brings an exotic flavour to this sauce which is then complemented by the rich notes of coriander and chili.
– Provençal: the sunny notes of Thyme are perfectly blended with the freshness of Basil and the sweeter flavours of pepper.
Depending on application, tailor-made recipes can also be created in order to offer new possibilities for the industrial service.
Our culinary experts are always happy to help so don't hesitate to get in touch.